Japanese volunteers
Would you be interested in speaking to Japanese language school students?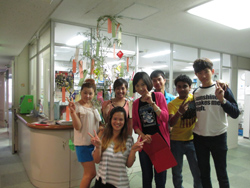 The YMCA Tokyo Japanese Language School currently has students from Korea, China, Mongolia, and many other countries.
These students study very hard in order to enroll in universities and vocational colleges in Japan.They are interested in talking to Japanese students but they do not have the opportunities to do so.
We are asking volunteers to help provide them with opportunities for free conversation in Japanese.

We are looking for volunteers who can spend time with the students to practice every day Japanese.
We are not looking for volunteers who have knowledge about teaching Japanese.
If you are interested in meeting students from different cultural background, please contact us.
Volunteer application procedure
If you have any questions, please contact Ms. Tsuchiya. She is in charge of the volunteer tutoring program. She will be more than happy to answer your questions.
First Term
May-September(about 3 months excluding the summer vacation
Second Term
November-March(about 3 months excluding the winter vacation)
Hours
Once a week for an hour
(Choose day or time from Mon thru Fri, between 1 to 3 pm)
Place
YMCA Tokyo Japanese Language School 3rd Floor Classroom
How to apply
Please come to the YMCA school. We will explain the details and how to apply for the volunteer tutoring program. (Choose day or time from Mon thru Fri, between 1 to 5 pm)
Japanese Language Tutors – Feedback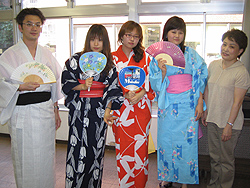 When I started studying Korean at the YMCA, I volunteered as a Japanese Language Tutor during the summer holiday for the first time and looked after university students from Korean universities studying the Japanese language in Japan. After this I volunteered as a tutor for students attending the YMCA Japanese Language School. People studying a foreign language want to speak in that particular language with residents of that country. The same goes for students studying at Japanese Language schools and for people like me taking language courses. Rather than seeing ourselves as volunteers, we are too are linguistic students and we want to help out in any way we can. This was my motivation for starting.
When the students express themselves in Japanese, although I reply in Japanese, sometimes I do not understand. And occasionally when I cannot explain well, I use pictures and gestures… It can be difficult. However, conversing directly with others is not just about words, it's more than that.
I am happy to say that the university students I encountered when I started out as a Japanese language volunteer still contact me by e-mail occasionally (some of them are now working in society). I would like to continue to volunteer as a language tutor for as long as I can.