Private Lessons : Lesson Overview
About Private Lessons
If you are here in Japan on business and are unable to attend our regular course, we can arrange private lessons just for you.
If there is one student, class will be arranged according to the student's needs.
If there are two or more students (semi-private lessons), students with similar level will be put in the same class and text book and materials will be chosen accordingly.
The number of lessons
One class meeting will consist of 2 lessons (45 minutes each).
The number of class meetings and time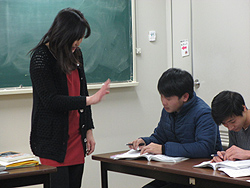 The number of class meetings and time will be determined before the private lessons begin.
A student or students and the instructor will meet to discuss the details prior to the lesson.We require full payment for the course before the class starts.
ex.) once a week (2 lessons) for 5 weeks will cost
4,950yen x 2 lessons x 5 times = 49,500yen
Place
Class will take place in the YMCA Tokyo Japanese Language School.
If the class is held outside of the YMCA School, we will charge extra for transportation and other fees.
Tuition:One instructor(tax included)
1student
1 lesson(45 minutes)
4,950 yen
2 students
7,700 yen
3 students
9,900 yen
4~7 students
11,000 yen
If you have any questions, please feel free to contact us.
(Tel: 03-3233-0615/E-Mail: nihongo@ayc0208.org)