School Principal's Greetings
"Realize your dream in Tokyo!"
The Proud History and Tradition of the YMCA's Japanese Language Education
With a network extending to 119 countries and regions around the world, the YMCA is a non-profit public interest incorporated foundation based on Christian ideology. Our school was established in 1906 in Chiyoda Ward – the heart of Tokyo – by Korean students. We take pride in our history and tradition of teaching the Japanese language ever since then.
Making Dreams Come True
- An Education that Nurtures the Individuality of Each Studen -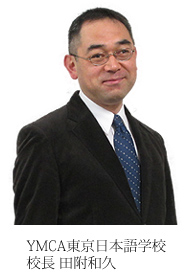 Although our school is small and we only accept 100 students at a time on our regular course, this ensures we can carry out our educational activities in an atmosphere that is warm and friendly for students, teachers and staff.
Teachers and staff pay particular attention to the individuality of each and every student in order for them to realize their dreams through their study of the Japanese language.
Although we take pride in our reputation of being strict in our daily instruction, we wish to point out that this is a reflection of our affection for our students.
Encouraging our Students to Become "World Citizens"て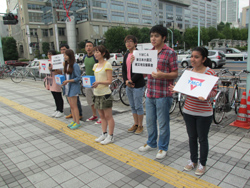 The goal of our school is not only improvement in the linguistic skills of our students, but we also aim to encourage an increased understanding and knowledge of the culture and history of Japan. Because of the YMCA's status as an international volunteer organization, we are able to provide a wide range of activities - including a Volunteer Tutor System, cultural exchange with high school students and university students, and a program that encourages cultural exchange with local people living in the area through bazaars, etc.
Through various studies, our aim is to ensure that all students grow to become "world citizens" by perceiving international issues as their own and working towards solving them. Although the YMCA Tokyo Japanese Language School is small, it is warm and friendly, a place where all kinds of people gather to learn and live together. Take the first step to making your dream come true with us!